---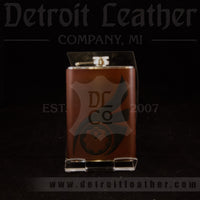 Inspired based on the flask from Q r o w from the anime 'RWBY'. Hand sewn leather-covered 8oz stainless steel flask for almost any occasion. Whether you want one for yourself, or as a gift we have you covered. 
Enjoy Responsibly!
**Please remember, no two products will look *exactly* the same due to variations in the leather.
** Please note that any of our leather products, the colors may look slightly different from the one posted in the picture.
Made to order and handcrafted in the Motor City.