---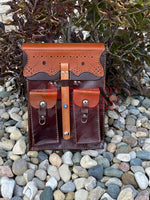 Multi-pocketed leather bag handcrafted from Veg Tan leather. 13x10 3.5" wide and unlined. Detachable straps make this bag versatile in it's usable. Each backpack is individually produced and can be customized upon request (color, tooling, etc). Additional options may cost extra, please inquire before purchasing.
**Please remember, no two products will look *exactly* the same due to variations in the leather.

** Please note that any of our leather products, the colors will look slightly different from the one posted in the picture.