---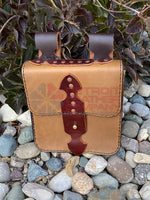 Single pocket small hip bag, handcrafted from Oil Tan leather. 6x6 1/2' wide unlined. Designed to hang from your belt, this pouch is durable and can be made from a variety of styles and colors upon request. Please note that additional options may cost more, and ask that you contact us before purchasing.
**Please remember, no two products will look *exactly* the same due to variations in the leather.
** Please note that any of our leather products, the colors will look slightly different from the one posted in the picture.